THE BIG IDEA:
PHILADELPHIA — Hillary Clinton had something for everyone.
If you already support the former secretary of state, you loved her speech to the Democratic convention last night. If you're skeptical of her but trying to convince yourself to get to yes — whether because you backed Bernie Sanders or you're uncomfortable with Donald Trump — there was plenty for you.
(Article by Kristen Bateman)
Trump's acceptance speech in Cleveland was all about shoring up his base. He could have given it last summer. Clinton's speech here was about winning the general election. That will require shoring up recalcitrant Bernie Sanders boosters, making gains with independents and running up the score with women.
In an attempt to accomplish all three aims, Clinton carefully threaded the needle on issues big and small:
Barack Obama and Joe Biden do not get enough credit for the economic recovery, she said. After the applause subsided, she added: "But none of us can be satisfied by the status quo."
Dozens of speakers during the four-day convention called for tough new gun laws, but no one did so with as much nuance as the Democratic nominee. "I'm not here to repeal the Second Amendment," Clinton said. "I'm not here to take away your guns. I just don't want you to be shot by someone who shouldn't have a gun in the first place." It's a reflection of her continuing cautiousness on one of the major issues that cost her husband control of the House in 1994.
She said her "primary mission" as president will be to create good-paying jobs in places like "coal country." A minute later, she declared that combatingclimate change will also be a priority. Cutting greenhouse gas emissions, almost by necessity, requires less reliance on coal, which means more coal miners out of work.
In Clinton's parlance, these are hard choices that require tough trade-offs. But she's in no rush to make them before she gets to sit behind the Resolute desk in the Oval Office. So while she proclaimed how much she loves to go into the weeds on policy, she largely stuck to generalities. Our fact checking team grumbled last night that her speech "was relatively sparse in terms of facts and figures that could be checked."
— A perfectionist, the 68-year-old tinkered with the script until late Thursday afternoon — even though she's been working on drafts for several weeks. The result was that it grew in length and at times felt like something akin to a State of the Union, a 57-minute exercise in checking boxes and splitting the difference. The final transcript runs 5,400 words — 18 minutes shorter than Trump's but 15 minutes longer than Bill's. (The Post video has put together a 5 minute version of her speech.)
— To the Berniecrats, she threw hunks of red meat.
A few hundred Sanders delegates wore neon T-shirts as a kind of silent protest, though some did not stay silent. They glowed in the dark whenever the house lights went down. "I want you to know, I've heard you," Clinton assured them. "Your cause is our cause. Our country needs your ideas, energy and passion."
Notably, she embraced ideas that her surrogates dismissed as infeasible and unrealistic when it was the Vermont senator who was advocating for them. "Bernie Sanders and I will work together to make college tuition-free for the middle class and debt-free for all," she declared.
Clinton said she's against "unfair" trade deals but did not elaborate.
She said she will raise the minimum wage but did not give a number. The left wants $15 an hour nationally, which gives heartburn to employers who'd foot the bill and economists who fear it would increase unemployment.
Clinton also said she wants to "expand Social Security," make the rich pay "their fair share" of taxes, pass a constitutional amendment to overturn the Supreme Court's Citizens United decision and prevent Wall Street from "ever being allowed to wreck Main Street again."
— Then she pivoted to wooing independents and disenchanted Republicans by delivering a paean to pragmatism and promising bipartisanship.
After briefly sounding like she is some kind of political revolutionary, she began to explain that progress actually happens "step-by-step, year-by-year."
Telling the story of the Constitutional Convention in Philadelphia, she lauded compromise as a virtue.
Even though she understands the gridlock in Washington as well as any other living person — having lived in the White House for two terms and served in the Senate for eight years — she spoke as if she could break through it with some ease.
"I've worked across party lines to pass laws and treaties and to launch new programs that help millions of people," she said. "And if you give me the chance, that's what I'll do as president. … I will be a president for all."
Clinton argued that Trump does not embody the values of Ronald Reagan, and the Thursday evening program included two Republicans endorsing her.
Doug Elmets, who worked in the Reagan administration, said he would cast his first ballot for a Democrat. "I knew Ronald Reagan; I worked for Ronald Reagan. Donald Trump, you are no Ronald Reagan," Elmets said.
Jennifer Pierotti Lim, the director of health policy for the U.S. Chamber of Commerce, co-founded Republican Women for Hillary. "In Donald Trump's America, it doesn't matter that I'm an accomplished attorney and a policy expert, it just matters how attractive I am on a scale of one to 10," she said on stage at the DNC.
— To appeal to cops and civil rights activists, Clinton nodded to both the Black Lives Matter and the Blue Lives Matter movements.  
Last week, many speakers at the RNC chastised Black Lives Matter activists. Trump has made no secret of where his allegiances lie.
"I refuse to believe we can't find common ground here," Clinton said in her speech. "We have to heal the divides in our country, not just on guns but on race, immigration, and more. And that starts with listening [and] trying as best we can to walk in each other's shoes."
Before she came on stage, representatives of both sides were featured.
Family members of three officers killed in the line of duty shared their personal stories. Dallas Sheriff Lupe Valdez received a standing ovation and asked for a moment of silence to remember the fallen in her hometown.
A few hecklers tried to interrupt the moment by shouting "Black Lives Matter," but they were hushed.
Immediately after, the president of the North Carolina NAACP gave a fiery speech. "We hear the legitimate discontent of Black Lives Matter," said the Rev. William Barber.
— For women, she spoke about the chance to make history.
A major party nominating a female for president for the first time was a truly historic moment lost on no one. But while she celebrated the "milestone," she also carefully explained that's not what her campaign is really about. And she went out of her way to say that the "march toward a more perfect union" is also good news "for boys and men — because when any barrier falls in America, it clears the way for everyone."
That's not to say she didn't get in some real zingers. "If fighting for affordable child care and paid family leave is playing the woman card, then deal me in," she said. Facebook says that was the most shared quote from the night.
Mike Pence gave Clinton a gift a few hours before her speech when he boasted at a Michigan town hall that Roe v. Wade will be"consigned to the ash heap of history, where it belongs" if Trump wins. Once it is put into heavy circulation, the clip should help Democrats revive the war-on-women narrative that worked so well four years ago and widen the gender gap.
From Mitt Romney's chief strategist: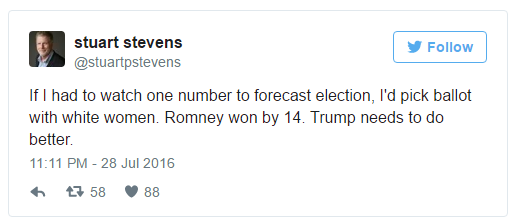 — To be clear, there is nothing wrong with trying to appeal to as many voters as possible. Elections are won with addition, not subtraction or division. In a two-party system, you have to appeal to a lot of people in a very big tent. One of the advantages of a laundry list is that people glom on to whatever they like and want to hear. That's how human psychology works.
— This was undoubtedly Clinton's most effective speech since June 2, when she eviscerated Trump in San Diego, and perhaps of the whole cycle, just because of the sheer size of the audience. The response inside the Wells Fargo Arena was electric —  dramatically better than what the GOP nominee received during his coronation in Cleveland.
— In the short term, dislike for Trump is the glue that will hold the Democratic coalition together this fall. Hillary mentioned Bill by name twice in the speech, Barack Obama four times and The Donald 23 times. "A man you can bait with a tweet is not a man we can trust with nuclear weapons," she said in the biggest burn of her speech.
As Clinton pounded Trump for not having the temperament to be president, he validated her point during a rally in Iowa. He told a crowd in Davenport that he wanted to "hit a couple of speakers" while watching on TV the night before, including one "little guy … so hard his head would spin." Trump also accused Sanders of "selling out to the devil." (Watch.)
— HRC should get at least a small bounce in the post-convention polls. Its size depends on how many remaining Sanders supporters fall in line and how many independents move in her direction. Perhaps just as important is any shift in her personal favorability or trustworthiness.
The DNC got better ratings and generated more social media buzz each night than the RNC did. On Wednesday, 24.03 million watched on TV —compared to 23.4 million who watched the equivalent night in Cleveland.
A promising early indicator for Dems: USA Today reports a huge spike in Google searches for "voter registration," something also not seen during the RNC.
A fresh poll from Suffolk University also shows Clinton shoring up support among Pennsylvania voters. As she embarks on a bus tour across the state today, she leads Trump by nine points in the must-win Rust Belt state (50 percent to 41 percent).
— In the long term, however, there were some warning signs here this week. Clinton said the country is at a "moment of reckoning," but the Democratic Party will find itself at such a crossroads if she loses in November. The 2016 nominating contest did not resolve the fundamental debate over the future of the party. In some ways, it only drew attention to the differences. Clinton won because of her superior organization, her stranglehold on African American voters and the fact that Sanders initially got into the race to raise issues — not with the goal of actually winning.
— Hillary is a hawk in a party that remains dovish at its heart. As secretary of state, Clinton was consistently more willing to use force than Obama. Speakers mentioned the Osama bin Laden raid just as many times at the 2016 convention as they did in 2012, when it had happened just a year earlier.
The electorate as a whole wants a strong and tough leader, but the Democratic coalition includes many isolationists and pacifists. "A CNN poll last year showed 6 in 10 Democrats did not believe the United States should lead the fight against ISIS," Aaron Blake notes. "A Pew poll last year showed … 52 percent approved of U.S. drone strikes to target extremists. But 39 percent disapproved."
Retired Marine Gen. John Allen, formerly the U.S. special envoy in charge of the fight against ISIS, offered a strong testimonial for Clinton's readiness to be commander in chief. But he had to raise his voice at times to overpower the chants of pro-Sanders hecklers from several states who were chanting "No more wars." The pro-Clinton delegates drowned them out by chanting "U-S-A" and waving American flags.
The scene got uglier when Medal of Honor recipient Florent "Flo" Groberg, an Army captain who lost a leg in Afghanistan, spoke. The chants subsided a little bit, but some Sanders supporters turned their backs on the war hero and held peace signs with two fingers.
Recall that Clinton's support for the Iraq war is one of the primary reasons she lost the nomination to Obama in 2008. She subsequently said her 2002 vote was a mistake.
For her part, Hawaii Sen. Mazie Hirono — appearing with 11 other women senators — described how protesting the war in Vietnam led her into electoral politics. Hirono called Clinton "a kindred spirit" because she has "an activist heart."
— Bottom line, it's a tough balancing act. But Clinton did a pretty good job at it Thursday night. Now she just has to keep it up for 102 more days. The next truly big moment in the race is the first debate on Sept. 26.
WHILE YOU WERE SLEEPING:
— "In a long-awaited decision, Democratic Sen. Robert Menendez (N.J.) failed in a bid to have the bribery and corruption case against him thrown out," per Politico's John Bresnahan and Josh Gerstein. "A federal appeals court in Philadelphia has let stand the charges against him, rejecting his claims that his constitutional protections as a senator were violated. The ruling is a serious blow to Menendez, who was hoping to have all or most of the case against him thrown out. Menendez was indicted in April 2015 for allegedly accepting hundreds of thousands of dollars in improper gifts and campaign contributions as bribes in exchange for using his office to help Dr. Salomon Melgen, a Florida ophthalmologist and longtime friend and financial backer."
— "The U.S. economy grew a sluggish 1.2 percent in the second quarters, according to government data released Friday morning, as businesses cut back on investments and dashed hopes for what economists had expected to be a major bounce-back," Chico Harlan reports. "The latest data shows an economy pulled in two directions, powered by fast-spending consumers but held back by anxious companies responding to a strong dollar and turmoil overseas. Tepid growth between the months of April and June was particularly unsettling because it extended a period in which the economy appears to be gradually shifting into a lower speed. For three consecutive quarters, the gross domestic product growth — the broadest measure of output — hasn't topped 1-1/2 percent. The nation hasn't seen such a meager stretch since 2009. Though some economists said Friday that the U.S. is due for a pick-up in the second half of the year, the recent weakness could dampen sentiment about the country's course and push Clinton to take a more critical tone about the economy under Obama."
— Florida officials just announced the first local spread of the Zika virus through infected mosquitoes in the continental United States. "Gov. Rick Scott made the announcement during a press conference Friday after a health department investigation into four suspected cases in Miami-Dade and Broward counties. He said transmission was confined to a small neighborhood just north of Miami," Lena Sun and Brady H. Dennis report. "We learned today that four people in our state likely have the Zika virus as a result of a mosquito bite," he said. "All four of these people live in Miami-Dade and Broward Counties, and the Florida Department of Health believes that active transmissions of this virus could be occurring in one small area in Miami."
MOSCOW'S HACK ATTACK:
— Russian government hackers have apparently also breached the computers of the Democratic Congressional Campaign Committee."The intrusion appeared to be carried out by the same Russian intelligence service that hacked the DNC earlier this year," Ellen Nakashima reports. "Hackers working for Russia's military intelligence service, the GRU, were traced to the DCCC intrusion, sources said. Also known as APT 28 or Fancy Bear, they are the group the FBI believes took a cache of DNC emails. The bureau is trying to determine whether those emails are the ones that appeared on the website of the anti-secrecy group WikiLeaks on Friday."
"It's definitely part of a much, much broader campaign that is yet to fully be publicly revealed," a cybersecurity expert familiar with the matter tells Ellen.
— Two dozen Republican national security experts signed a letter to congressional leaders urging an "immediate investigation" into the DNC cyber-attack, calling the issue "an assault on the integrity of the entire American political process." Tom Hamburger notes that the letter, signed by conservative luminaries of the Reagan and Bush administrations, urges political leaders to reject any effort to seek partisan advantage.
— The DNC has yet to notify thousands of wealthy donors whose contact information has been publicly exposed by the Wikileaks dump. From ABC News: The cache includes the email addresses, phone numbers and Social Security numbers for some of the richest and most powerful people in America. "Among the well-known Democratic supporters whose personal information appears in the hacked files are Eva Longoria, Ellen DeGeneres, Kyra Sedgwick and James Cameron. California billionaire Tom Steyer's information is exposed, as is that of megadonor George Soros."
— U.S. spy agencies are preparing to deliver a classified briefing to Trump, the nation's intelligence director said in Aspen, Colorado, last night, despite deep unease among many spy officials with the real estate mogul's pro-Russian rhetoric, Greg Miller reports. "National Intelligence Director James R. Clapper Jr. indicated that Trump and … Clinton are eligible to receive intelligence briefings within days … 'Now is the appropriate time, since both candidates have been officially anointed,' Clapper said during a security conference. Amid reports that some intelligence officials have deep reservations about sharing sensitive information with Trump, Clapper said that 'it is not up to the administration and not up to me personally to decide on the suitability of presidential candidates. The American electorate is deciding on the suitability of the next commander in chief.'"
One senior intelligence official told Greg yesterday that he would decline to participate in any session with Trump. "I would refuse," the official said on background, citing not only concern with Trump's expressions of admiration for Putin but his seeming disinterest in acquiring a deeper or more nuanced understanding of world events. "He's been so uninterested in the truth and so reckless with it when he sees it."
— The illegitimate government of Crimea, which is propped up by Putin, has invited Trump to come visit. These people are stoked that the GOP nominee said he is "open" to discussing the territory's contested status following Russia's invasion of Ukraine in 2014. Arguably, that is a more scandalous statement than his request for Putin to publish Clinton's emails. (Newsweek)
GET SMART FAST:​​
— Prosecutors dropped all charges against the man accused (and previously convicted) of killing Chandra Levy, after a convicted felon who was their star witness in the case confessed on tape that he lied during his testimony. Lynh Bui, Keith L. Alexander and Scott Higham have the backstory: "Local actress Babs Proller met (Armando) Morales when she was living in a Maryland hotel. The two neighbors eventually became friendly, though Proller eventually 'became suspicious' of Morales and began recording hours of their conversations on tape. Eventually, she says, Morales revealed on tape that he had lied when he testified in 2010 that a onetime cellmate had confessed to killing Levy. Those clandestine recordings led to a stunning announcement by District prosecutors on Thursday that they would drop all charges against Ingmar Guandique, who was facing a retrial in the 2001 slaying of the federal intern. … The dropped charges — coming just three months before the retrial was set to begin …  bolsters arguments made by Guandique and his attorneys, who have steadfastly said he was being wrongly held." (Morales reportedly said he lied about Guandique's confession to improve his prison conditions.)
The retrial would have been messy: Guandique's defense attorneys planned to argue that then-Rep. Gary Condit (with whom the victim was having an affair) had a motive to murder her.
ADDITIONAL HIGHLIGHTS FROM NIGHT FOUR OF THE DNC:
— The best speech of the night came from the father of a Muslim soldier killed in combat. Khizir Khan, whose son Capt. Humayun Khan was killed in Iraq in 2004, denounced Trump for his proposed ban on Muslim immigration. "Donald Trump, you're asking Americans to trust you with our future. Let me ask you, 'Have you ever read the U.S. Constitution?'" he asked, pulling out a pocket copy of his own and offering to lend it to him. "Look for the words liberty and equal protection of law."
Khan's son was in Baquba, Iraq, on June 8, 2004, when he tried to protect fellow soldiers from an oncoming car that was laden with 200 pounds of explosives. He earned a Purple Heart and Bronze Star posthumously after saving much of his unit, but not himself. "Have you ever been to Arlington Cemetery?" Khan asked Trump before Democrats on Thursday. "You'll see all faiths, genders and ethnicities." To Trump, he said: "You have sacrificed nothing." (Back in 2005, Khizr Kahn talked to The Post's Stephanie McCrummen about the loss of his son. Read her story here.)
Watch the moving 2-minute video telling Captain Khan's story:
If you missed it, it's worth taking seven minutes to watch Mr. Khan's full speech here:
— As the father spoke, Trump was equating all Syrian refugees with ISIS militants and lamenting the fact that America cannot use waterboarding anymore. From Jenna Johnson: "In a small town in eastern Iowa, Trump warned his mostly white audience that President Obama is already allowing thousands of Syrian refugees with 'no real documentation" to pour into the country and that Clinton would increase that rate by 550 percent. 'They put them all over the country. Nobody even knows where they're being put … but all we know is we watch these people with the slashings and the throat cuttings and the cutting off of the heads and the drowning in steel cages,' Trump said. … 'These are people, they have to be stopped. They have to be stopped. And they have to be stopped very, very strongly and very viciously, if we have to.'"
OTHER NOTABLE SPEAKERS:
— Chelsea sought to humanize her mother by talking about what she's like as a mom and grandma during her introduction. Lois Romano describes her as "the very last character witness" of the convention. "My earliest memory is my mom picking me up after I had fallen down, giving me a big hug and reading me Goodnight Moon," the 36-year-old said." From that moment, to this one, every single memory I have of my mom is that regardless of what was happening in her life, she was always, always there for me."
— A dozen women senators took the stage together to vouch for Clinton, joining hands as they told anecdotes about Clinton being empathetic and effective. Sen. Claire McCaskill (D-Mo.) who was diagnosed with breast cancer this year, talked about getting phone calls from Clinton as she went through treatment. "Women, put on your lipstick," said Maryland Sen. Barbara Mikulski. (Josh Hicks)
— Sarah McBride became the first openly transgender person to speak at a national party convention, speaking about the death of her husband Andrew, a transgender man and a fellow LGBT activist. "His passing taught me that every day matters," said McBride, who works for the Human Rights Campaign. "Hillary Clinton understands the urgency of our fight."
HOW HILLARY'S SPEECH IS PLAYING IN THE PRESS:
— "Clinton's message has never been as succinct as Trump's," saysDan Balz, the Post's chief correspondent. "Rhetorically, Clinton did not try to compete with some of the speakers who had gone before her this week. Her speech was more prosaic than poetic. She acknowledged as much when she said, 'The truth is, through all these years of public service, the 'service' part has always come easier to me than the 'public' part." But it was nonetheless a confident and crisp performance."
— "Clinton used her convention to stage-manage a reintroduction," writes ABC News political director Rick Klein. "The wild week … brought anger and unpredictability, loud disagreements and flashes of patriotism and a party exposing its divisions and anxieties for the nation to see. In other words, it revealed America. … None of what she said can erase the memories or the baggage of the Clintons. It won't lessen the fight ahead for a third-straight Democratic presidential term. … But Clinton leaves Philadelphia with more than she came with. She has a party that aired its differences loudly yet mostly respectfully, plus a comprehensive argument against Trump to take into the fall."
— "The speech didn't really show us a side of Clinton we didn't know," Chris Cillizza argues on The Fix. "No one questions her long record of fighting for progressive policy. No one doubts her comprehensive knowledge of issues. But, a vote for president isn't based solely on a laundry list of policy proposals and positions." Still, he calls Clinton a winner because the speech was exactly who she is: "A worker, a nose-to-the-grindstone churner who never, ever stops. That is, at heart, her strongest attribute as a candidate.Clinton stayed true to herself — even if that meant that she didn't match the heights of some of the speakers who came before."
— "The Democrats' not-so-secret closing argument: Hillary Clinton is Leslie Knope." Vox's Todd VanDerWerff says the Democratic Party is trying to rebrand their candidate ahead of the general election — just as Parks and Recreation co-creator Mike Schur and his writers rebranded its main character ahead of Season Two. "The writers' bid was that if the other characters were on Leslie's side, then viewers would be, too," VanDerWerff writes. It was that Knope's can-do optimism, which could seem off-putting when nobody else was on her side could be moving if she impressed even characters like political opposite Ron Swanson.
The Democratic convention tried to do exactly what Parks and Rec did — even suggesting Clinton has a bit of Knope in her: "She worked so hard she impressed political opponents. She fought for what she believed in tirelessly. She never quit, even when things seemed dire. Those who attack her, then, are only playing into the Knope-like Clinton Democrats tried to build up — a tireless striver who suffers the slings and arrows of criticism to come out the other side, stronger. After all, it worked for Leslie Knope."
— "All she had to do was give Americans a chance to like her," the Boston Globe's Joan Vennochi writes. "It was that simple and that difficult. Hillary Clinton walked onto the stage and savored her ground-breaking moment … But this moment, like others in Clinton's career, went less than smoothly. Protestors broke out in chants. They were drowned out by cheers of 'Hillary!' It gave the hall a raw, raucous, slightly surreal feel. But Clinton did what she always does. She didn't crack or falter. She was, as President Obama put it, the woman 'in the arena.'"
— "Mrs. Clinton's narrative this week has been that of a nurturer, one who has methodically dedicated herself to recognizing and facilitating the heroism of others — the handicapped, the kids, the unions, the Mothers of the Movement," Virginia Heffernan writes in the New York Times. "Instead, the hero whose journey is being thematized at the engrossing spectacle in Philadelphia is that of the male voter. The voter in conflict. The one who hears the call of Hillary Clinton but refuses it. The one who experiences some supernatural interference in the form of the arch-imago Donald J. Trump. And the one who finally braves, say, another party's convention or the scorn of his supporters to emerge a changed man, ready to spread the word."
— "Her story had to be transformed from one of unquenchable ambition to one of boundless heart, and the urgency of the task was underscored by the attention to detail with which she and her campaign team went about it," Frank Bruni writes in the Times. "The yardstick for Clinton was Clinton herself — and her tendency to come across as programmed, guarded, remote. If many Americans look askance at her, it's not just because Republicans have so persistently encouraged them to. It's because she can seem so far away, on the opposite side of a moat that she dug herself and has little interest in letting people traverse."
— The DNC was a "slick production," Post theater critic Peter Markswrites. "The four days in Philadelphia's Wells Fargo Center have reminded us that we really do crave a guiding sense of smarts — and showmanship — at a convention. Sure, it's fun when conflict breaks out. But we're also conditioned at this advanced point in the age of appointment television to expect a certain level of polish. Not slickness — just a professional sheen. The opportunity to hear the nation's leaders speak en masse occurs only once every four years, and so, among other things, we crave from them some mastery of salesmanship, some rhetorical skill in the art of persuasion."
— Five Thirty Eight's Nate Silver weighs in on the post-convention "bounce": "Bounces seem to be larger in years when there are more undecided and third-party voters. They seem to be larger in years when the polls are more volatile heading into the conventions. Both those factors might portend larger bounces this year, since there are a lot of undecideds and the polls have been fairly volatile. On the other hand, bounces have gotten smaller over time, and perceptions of Clinton and Trump are relatively hard-wired as compared with those of typical presidential candidates … Could Clinton get a 10-point bounce? Or no bounce at all? Sure — we don't know enough about convention bounces to rule out either possibility."
WIDENING THE APERTURE — Big picture takeaways now that both conventions are in the books:
— "As the country's two major political parties emerge from their conventions to square off for the general election, they are speaking to Americas unrecognizable to each other, in voices that sound like a political and ideological role reversal," Karen Tumulty and Robert Costa write. "Going back … to Franklin D. Roosevelt, it has been the Democrats who have made common cause with the aggrieved and the left behind, who have been criticized for dwelling too much on the nation's flaws and being squeamish about asserting power internationally. For some Republicans, it is an unsettling juxtaposition."
— "Trump has abandoned the deep and pervasive optimism that has always energized the American nation," David Brooks writes in the Times. "For decades the Republican Party has embraced America's open, future-oriented nationalism. But when you nominate a Silvio Berlusconi you give up a piece of that. When you nominate a blood-and-soil nationalist you're no longer speaking in the voice of Lincoln, Theodore Roosevelt and every Republican nominee from Reagan to McCain to Romney. … It could be that in this moment of fear, cynicism, anxiety and extreme pessimism, many voters may have decided that civility is a surrender to a rigged system, that optimism is the opiate of the idiots … If that's true it's not just politics that has changed, but the country."
— The Economist says the conventions highlighted a new political faultline "not between left and right, but between open and closed":"Trump summed up one side of this divide with usual pithiness. 'Americanism, not globalism, will be our credo,' he declared. His anti-trade tirades were echoed by the Sanders wing. … Across Europe, the politicians with momentum are those who argue that the world is a nasty, threatening place, and that wise nations should build walls to keep it out. Such arguments have helped elect an ultranationalist government in Hungary and [Poland], and … populist, authoritarian European parties of the right or left now enjoy nearly twice as much support as they did in 2000 … The danger is that a rising sense of insecurity will lead to more electoral victories for closed-world types. This is the gravest risk to the free world since communism. Nothing matters more than countering it."
The Economist urges readers to vote for Clinton: "In America, where most is at stake, the answer must come from within the existing party structure. Republicans who are serious about resisting the anti-globalists should hold their noses and support Mrs Clinton. And Mrs Clinton herself, now that she has won the nomination, must champion openness clearly, rather than equivocating."
— New York Magazine's Jonathan Chait says Clinton is not just running as a Democrat – but as "the candidate of democracy itself":"Trump has declared over and over, over a long period of time and with no incentive to do so, that strong leadership entails the suppression of dissent. He does not draw a distinction between the exercise of this form of leadership in a democracy and in a dictatorship. Instead, he compares the former unfavorably against the latter. When you begin to take seriously Trump's belief in 'strength' as the measure of effective leadership, and the actions that flesh out those beliefs, then it overrides every other issue. The election is not fundamentally about whether a Democrat will beat a Republican. It is about whether a small-d democrat will defeat an authoritarian,and her election should be the cause not only of Democrats but anybody who cares about democracy."
— "This campaign is not merely a choice between the Democratic and Republican parties, but between a normal political party and an abnormal one," says Vox's Ezra Klein. "That isn't to say that Democrats didn't show divisions or expose fault lines. They did. Political parties are chaotic things. The Democratic Party's primary was unusually bitter, and listening to the loud 'boos' of Sanders's most committed supporters, there's real reason to wonder whether Democrats will fracture in coming years. But for now, the Democrats nominated a normal candidate, held a normal convention, and remain a normal political party."
THE DAILY DONALD:
— Donald Trump Jr. accused Obama of plagiarizing a line from his speech to the Republican convention, pointing out the president's use of the phrase "that's not the America I know." The charge comes after Melania Trump cribbed from Michelle Obama's 2008 acceptance speech. The "America I know" line is hardly unique to Trump's son, however. It is an American staple, frequently used by both Obama and George W. Bush over the years. (NBC News)
— The pro-Trump Great America PAC announced an ad campaign across several battleground states, featuring remarks from Rudy Giuliani. The announcement comes after the group suffered a setback during last week's GOP convention, when Trump campaign chairman Paul Manafort gave a tacit blessing to a different group, Rebuilding America PAC. The group said it will spend $2 million running the ads in Ohio and Pennsylvania. (New York Times)
WAPO HIGHLIGHTS:
— In an interview, former Fox News host Gretchen Carlson opened up on her feelings surrounding Roger Ailes leaving Fox News, the years of alleged sexual harassment, and the inaction by coworkers.From Margaret Sullivan: "After a professional life spent speaking before TV cameras … Gretchen Carlson isn't often at a loss for words. But when I asked her how she felt as she watched Ailes — perhaps the most powerful media figure in America — step down as Fox News chief only two weeks after she had sued him for sexual harassment, she searched for the right description. 'At first, satisfaction — or no, I think validation,' she told me … And then, she said, a new round of emotion came rushing in over the sexual harassment she says she endured while working for Ailes. 'I felt angry that it took so long.' In her first interview since Ailes, 76, left his post … Carlson described the 'surreal experience' of life since she filed suit on July 6." She described herself as "disturbed" by public statements of support for Ailes from former female colleagues.
— "The uncouth Roger Ailes," by CNN Money's Dylan Byers: "In 2011, then-Politico CEO Fred Ryan [who is now the publisher of The Post] launched a mission to repair relations with Roger Ailes, seeking a fresh start after a years-long rift between the companies. The company believed Politico reporters held anti-Fox biases. During the meeting, Ailes reportedly laid out his conditions to Ryan: He wanted 'fair coverage from Politico; he wanted the website to take stock of Fox News' successes … and he wanted Politico to stop taking talking points from 'that faggot David Brock.' … The former Fox News chief … regularly makes coarse and derogatory statements about women, homosexuals, Jews and racial minorities, several sources [said]."
Many believe Ailes' derogatory language played a role in his departure from NBCUniversal in 1996. "A year earlier, according to biographer Gabriel Sherman, Ailes had called NBC executive David Zaslav 'a little f—–g Jew prick,' prompting NBC to launch an investigation."
One former Fox host said Ailes once told her, "Walk down the hallway slower, I want to get a look at those legs." Sometimes, the staffer said, he joked "that he liked having women on their knees."
— Vice President Biden, at a memorial service for the three Baton Rouge police officers killed last week, urged cops and communities to stop seeing each other as "objects" rather than individuals. "We've got to close the distance, not just in Baton Rouge but all across America, between the neighborhood and law enforcement," he said, calling for a return to more closer community policing. "We did it before and it worked." Attorney General Loretta Lynch decried the "mindless violence" of the July 17 attack and pledged her department's support for law enforcement. (Michael E. Miller)
SOCIAL MEDIA SPEED READ: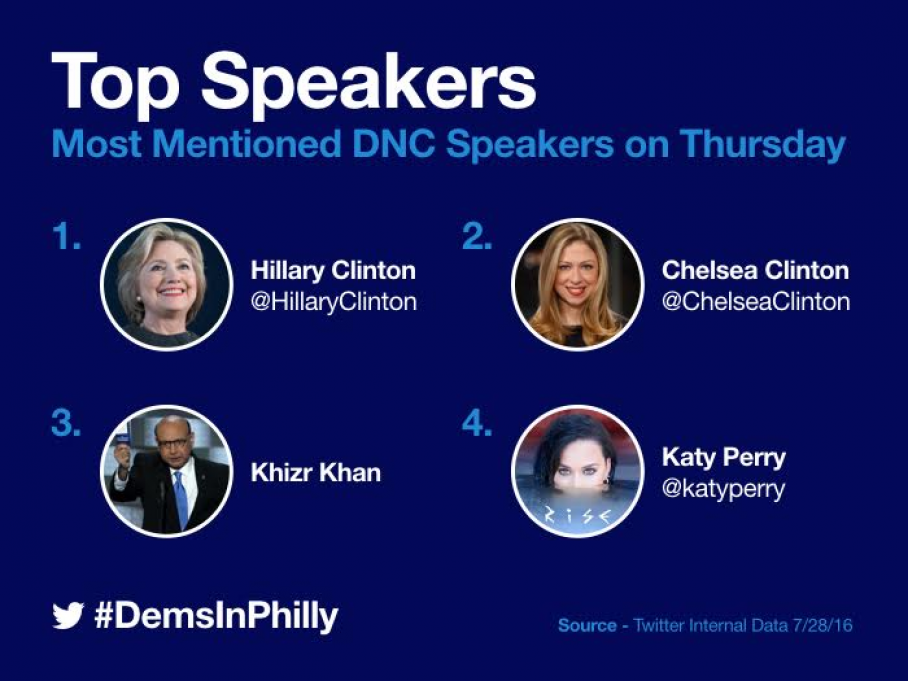 A few photos to start. This is Sarah McBride, the first openly transgender person to speak at a national convention. Her photo from a women's bathroom in North Carolina a few months ago went viral:
Kirsten Gillibrand snapped a selfie with the Senate's Democratic women before they took the stage: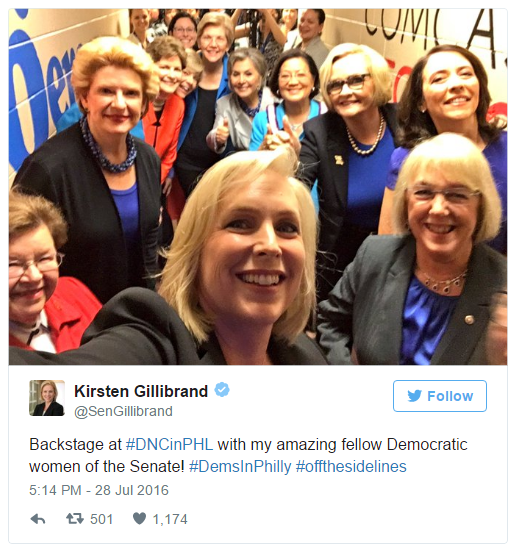 Read more at: washingtonpost.com